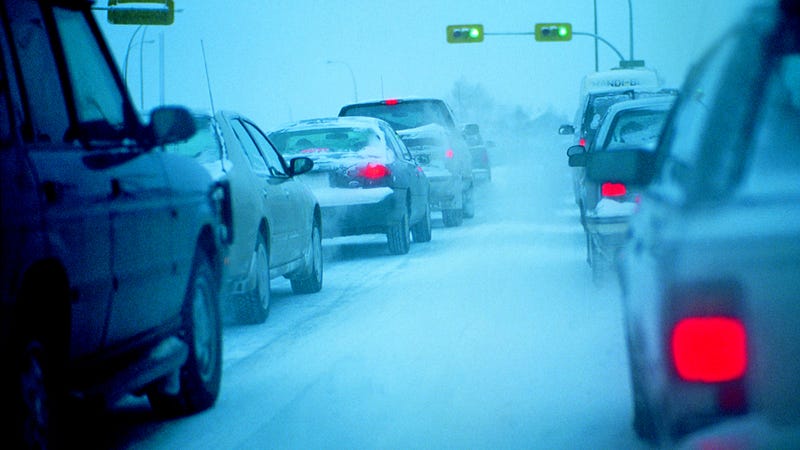 Whether you're full of yuletide cheer or just sad low-octane eggnog, there's one thing most people have in common this holiday season: there's a lot to get done! Suddenly, normally easy moments — like spending alone time in your car — become ideal places to have an anxiety attack, as you start dwelling on everything you're not getting done while you're sitting in traffic.
Have Assistance at the Ready
During the holiday rush, having on-the-road backup is essential. With the Lumia 635, you'll be equipped with Cortana, a smooth-talking personal assistant who actually listens to you, learns your habits as time goes on, and changes her own behavior to match them.
For instance: let's say you're heading are over the river and through the woods, to the airport where grandma's going to be picked up. (Sorry.) If it starts snowing and the flight is delayed, Cortana will be proactive about it— informing you not only of delays, but reminding you of what flight she's is on in the first place, and what gate she'll be waiting at. That makes her more useful than 90% of actual people you could have in the passenger seat when things start to get complicated.
Cortana's also useful in saving you time during your everyday routines: she'll track your travel patterns and habits, learn your preferred routes, and will advise you of traffic alerts to offer alternate ways to get to work on time, out of work on time, and make it to your kid's Winter Wonder-whatever play before the curtain rises.
Keep Your Information at Your Fingertips
For those who prefer their information to stay silent, the Lumia has you covered there, too, with the extremely cool (and surprisingly useful) Live Tiles. Live Tiles are squares on the main screen that are so much more than icons. Think of them as the touch controls on your personal starship. These little bits offer up-to-date info, or are clickable for more content. They're customizable, moveable, and respond quickly, keeping you informed. You can pin your most-used apps and favorite people to your start screen, and see when your next meeting is, the last email you received, and the current weather conditions, all with a quick glance at the home screen.
Live Tiles also allow room for tons of personalization, allowing you to change the color, size, location of the tile — whatever. And, they have therapeutic value: they're so satisfying to slide around the screen that a few minutes fiddling with Live Tiles can relaxing enough to clear up many minor holiday-induced headaches.
Be Ready to Work Anywhere
As for the headaches too big to be conquered by a nifty interface, your phone can keep you productive and happy even when your car's broken down, when you're waiting for a tow truck after being snowed into a parking lot during a freak blizzard, or just when things have to get done at the least convenient moment possible.
Have a brilliant gift idea while you're stuck in a traffic jam? Just tell Cortana and she can remind you to look it up when you get home. Lose the address of the office party? Cortana shall be the indefatigable reindeer that guides you. Whatever list needs to be checked, she'll check it, and check it twice.
And when you need to get your own hands into the mix, the Lumia's new Action Center lets you see all your calls, texts, and social media updates with one simple finger flick, and the brilliant Word Flow keyboard revolutionizes the art of phone-typing, helping you get your thoughts down instead of doing its best to mangle them in humiliating ways.
During the holidays, you need to get your stuff done wherever you can. Now, with the Lumia 635, you'll finally be able to stop gnashing your teeth about all those wasted minutes behind the wheel, and start thinking of them as valuable time to mow down your to-do list.
Andy Jensen is a freelance automotive writer and social worker. Go figure on that one. He enjoys third-generation F-bodies, '80s econoboxes, and other terrible cars.
This post is a sponsored collaboration between Microsoft and Studio@Gawker .